Reviewinator

Trailer
Quicktime/Windows Media
Developer
Irrational Games
Official Site
Link
US Release

March 9, 2005

Rated
T (Fantasy Violence, Language)
Genre
RPG
Gamebox Clichés
Awards, system requirements
Explosions
2
Weapons
Handgun, fist, staff, bow and arrow
Flip Cover
Yes
In a World...
"When nuclear winter returns...."
Game Box
Déjà Vu
Super Friends
One Word Review
Comical
Spoilage Factor
15%
Geek Factor
80%
See Box?
Yes
Play Game?
Yes
My collection of games which I can't play has increased to twelve. However, that's about to change, as my computer will soon be able to play all of these with extreme prejudice. I'll have to come up with another reason to do game box reviews, besides just having a lame computer.

The most recent game I'll be reviewing was sent to me to be reviewed. I'm sure the company wanted me to review the game and not just the box, but they probably won't notice. The game is the comic-looking RPG sequel, Freedom Force Vs The 3rd Reich.

The game comes in a standard sized box with a flip cover. On my box the inside seam of the flip cover does not connect to the box, leaving bare white box breaking up the otherwise colorful graphics. This decision to save some money does cheapen the look of the box interior.

All the artwork on the box is comic book inspired. On the front cover, we have a muscular and masked Paul Revere character punching a Nazi. His name could be Captain Freedom or maybe Patriot Man, either way his fist packs a might wallop shown by a white splotch. The front cover also includes some explanatory text about "ALL NEW VILLAINS!" and "STORY-BASED MULTIPLAYER!" in fitting comic font with renditions of a villain and multiple players. The explanations are nice because at first glance this box could be mistaking for a comic book on CD.
The bottom of the box shows a smaller than normal bar code and minimum and recommended system requirements. The reason my formerly lame computer could not play this game once again rests on the video card. It requires a 32 MB card for minimum play. I barely eek out enough CPU power to meet the 733 MHz minimum requirement, but I'm nowhere near the recommended 1.8 GHz, which we know is where you need to be to enjoy the game.
The top of the box has the game logo and one of the heroes from the game, Swishman I think his name is. Also listed are phone numbers for technical support and customer service. A nice addition, which shows the game company, both released a buggy game and expects many calls, or they care about service.
The side panels have the game logo, the company logo and the picture of a villain. On one side is one of those telepathic brain control villains while on the other appears a robotic rock man.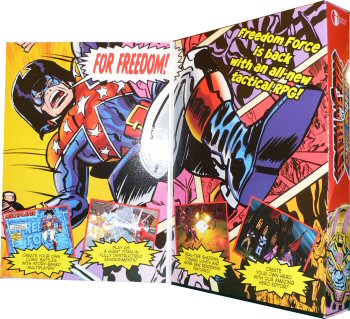 On the inside flip cover, you have another large graphic of kraut-butt kicking Professor America doing a flying leg kick while shouting "FOR FREEDOM!" All the comic text is in all-caps with exclamation marks for emphasis! Some in-game screen caps adorn the bottom of the inside cover with yellow splotches of explanation and hyperbole. You can "create your own comic battles" in "fully destructible environments" with "real-time shadows" using the "amazing hero editor!" Here we also learn that Freedom Force is a sequel and that it is an "all-new tactical RPG!" (Does that really need an exclamation mark?!)
On the back cover, more comic graphics and text saying you can "TAKE ON THE ORIGINAL… AXIS OF EVIL!" From the graphics you see that you can take them on as a bikini-clad bow huntress, who I'm sure would get her butt kicked by the Luftwaffe. Additionally, there are three more in-game screen caps. Some text explains the game as well as some hyperbole about the game and its features. At the bottom of the back cover, there is a large copyright and disclaimer section. I haven't mentioned this before, but on the ratings, there's always the disclaimer that "Game experience my change during online play." What does that mean exactly? That it will become a text adventure when you play online? Or maybe it means all the heroes clothes will disintegrate when you connect to the Internet? Either way, the comment is useless without further explanation.
Conclusion on Box: A welcome change from the dark and destructive images of Doom 3 and Far Cry. Plenty of bright colors and excellent artwork make this box worth seeing.
Conclusion on Game: The in-game graphics continue the comic book graphic style present on the box. No reason to believe it won't be a fun one to play.
This review applies to the eco-unfriendly American version of the game. International versions may vary. Review void in Wisconsin, Denmark and Costa Rica. Review will remain the same during online gameplay. No games were played in the making of this review. BBspot will self-destruct in thirty seconds.
Recommend This Story to a Friend