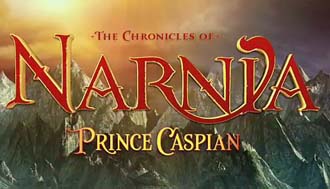 I've seen and read The Lion, the Witch, and the Wardrobe, but never Prince Caspian. If you haven't either, then you'll probably be as unenlightened after seeing this trailer as I was.
Most trailers are only two to two-and-a-half minutes long. Trailer creators don't have much time to highlight a two-hour movie in that time, so they need to choose their scenes wisely. They also have to preserve the balance between enticing the viewer and giving too much away.
The first minute of this trailer drags on too long. I didn't realize that was possible in only a minute, but it is here. The kids from the first movie stand around in a train station and a train whizzes by. A portal appears on the opposite side of the station, which leads them to a beach in Narnia. They walk along the beach. Hello? Get to the point.
They're all as excited as
I was by this trailer.
Where else have we seen a magical portal in a train station? Yeah, that's right, Harry Potter. Not only is this trailer boring so far, but it's not original either.
Finally, after a minute in, we get some useful information from the textovers. It's a year later for the kids, but thirteen hundred years for Narnia.
The kids discover some ancient ruins, and then Prince Caspian appears with his dwarf. At this point the trailer is more than half over, and still nothing exciting has happened. Finally, some guys with cool armor and swords appear.
We don't get any explanation if these guys are good or bad. One guy just tells us that Narnia is now a more savage place than it was before. That's great, but it seemed savage in the first movie, and you've only got a PG rating to work with, so you're probably wrong buddy.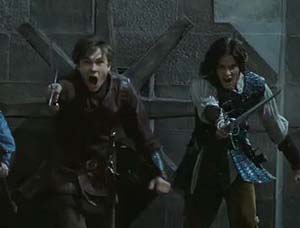 Charge! Hey, wait, where are we going?
Next, the action montages begin. People riding griffons, people you don't know breaking things, trees falling. I'm sorry, but the visual images don't match the intensity of the music. If that's all they got then we're in trouble.
Around two minutes in there's a cool CGI scene with trebuchets launching perfectly rounded rocks. Unfortunately, we don't know who's launching them or what they're launching them at.
Then we get the "In a world…" moment, "All that you know is about to change." Everything? Up becomes down? Fire isn't hot? I like boys now? No wonder this trailer is confusing.
Reviewinator

Trailer
Quicktime
Starring
Director
Adam Adamson
Official Site
Link
US Opening

May 16, 2008

Rated
PG
Genre
Fantasy Series
Explosions
14
Weapons
Swords, bow and arrow, pollaxe, trebuchet, shield
Man Quotient

8


Trailer
Déjà Vu
The Chronic - What? - cles of Narnia
Geek Factor
65%
See Trailer?
No
See Movie?
No
Follow Up
Pending
And finally, the last action montage with lots of charging people. No idea where they're going, but they want to get there fast.

Fun with IMDb: From the director of Shrek in the Swamp Karaoke Party and the star of Little Fugitive comes a film with the same boom operator as AVP: Alien vs. Predator.

Ending Prognostication: The kids are instrumental in defeating the evil person, whoever that turns out to be.

Conclusion on Trailer: Great special effects, but too many action montages of people I don't care about. If you've read the book, you'll probably enjoy this trailer more than I did, but if you haven't you might just want to skip it. I have less inclination to see the movie after watching this trailer. All aboard the C.S. Failboat.

Conclusion on Movie: All I can tell from the trailer is that they spent a lot of money on special effects, so it's hard for me to judge the movie. I'll put myself out on a limb on this one though, and say that it'll be a disappointment to most people.