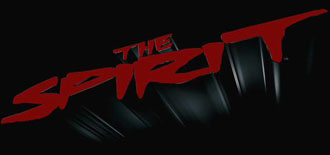 This week I review the new Frank Miller comic-to-movie movie Sin City 300, wait, that's not it. Gratuitous Violence and Cleavage 3? The Comic Book Hero Hardly Anyone Has Heard Of? Closer. Ah, here we go, it's The Spirit. Pardon my confusion, this one looks an awfully lot like a sequel to Sin City.
For me, it looked so much like Sin City it was a distraction. Or maybe the distraction was Scarlett Johansson's breasts. I'm still confused.
What I'm not confused about is that the trailer opens with a scream. Then a shadowy figure beats up a perpetrator. A victim asks, "What are you?"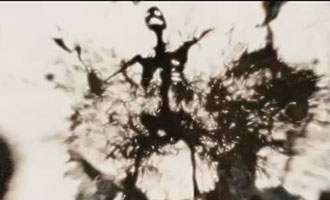 I see dead stick people.
The Spirit doesn't seem to know what he is either. "Am I some sort of ghost?" Not in the traditional sense, since he breathes and kicks and punches. His injuries heal quickly though, so maybe he's related to Wolverine. He wears a mask like Zorro though, so maybe we should call him Zorlverine!
Samuel L. Jackson plays the dastardly "I've got eight of everything" Octopus (no wonder all the beautiful women flock to him). Is it a requirement that Samuel L. Jackson be in every comic book movie these days?
Octopus can't seem to kill The Spirit, so he brings in a specialist. Eva Mendes as Sand Saref (the similarity to the font name is only coincidental (though she is well-rounded)). Saref was The Spirit's old flame, but she's turned evil. There isn't a law she won't break even those crazy ones you read about in Ripley's Believe It or Not.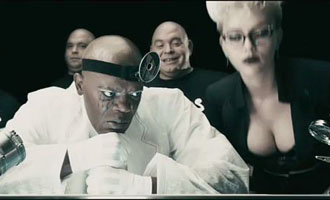 Huge tracts of land
Scarlett Johansson plays Helen Vetica (not related to the font either) and she's Octopus's accountant (why can't he have eight of her?)
There's lots of black and white violence that looks cartoony and realistic at the same time. Someone should really let Frank Miller know that we're now capable of filming in fabulous Technicolor.
The Spirit's catchphrase is "I'm gonna kill you all kinds of dead." It's not "I'll be back" or "Did I do that?" but it's not bad.
Reviewinator

Trailer
Quicktime
Starring
Director
Frank Miller
Official Site
Link
US Opening

December 25, 2008

Rated
PG-13
Genre
Comic Book-to-Movie
Explosions
4
Weapons
Fist, feet, attack copters, machine gun, light pole, quad-barrel handguns, handgusn, power lines, gravity, frisbee, assault rifle, billy club, peashooter
Man Quotient

8.4

Trailer
Déjà Vu
Sin City
Geek Factor
69%
See Trailer?
Yes
See Movie?
No
Follow Up
Pending
As the title pops on the screen it reminds me even more of Sin City. I think Frank Miller better watch out, or the creator of Sin City is going to sue him (it's a joke, please don't email me).
Fun with IMDb: Starring Dan Gerrity who played Group Member #1 in Crimes of Passion and based on a comic by Will Eisner who was "miscellaneous crew" on The Iron Giant comes a movie with intense sequences of stylized violence and action.
Ending Prognostication: The Spirit wins. I'm guessing Octopus survives to be a villain for another day. You can't just kill off Samuel L. Jackson, plus you might need him for the sequel.
Conclusion on Trailer: Samuel L. Jackson has a memorable performance as Octopus. Plenty of violence and cleavage make this one worth the download (if you're into that kind of thing).
Conclusion on Movie: Sporting a secondary superhero and a repeat of the Sin City visuals, I'm not sure there's enough violence and cleavage in the world to save this one from a quick exit in the theater. It's close, but I'm not recommending this one (even with the promise of "brief nudity).