Sacramento, CA - The pool of candidates vying for governor of California grew once again today as Predator, a trophy-hunting Yautja from a distant planetary system, announced his candidacy.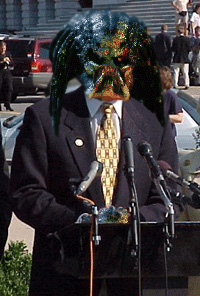 "It is with great pleasure, the very sort I get from ripping the spines from living creatures and hoisting them triumphantly overhead as they drip with still-warm blood, that I officially enter the race for governor of this great state," he said in a press conference yesterday evening.
Little is known about the mysterious creature's political ties, save for the fact that he has a history with both Jesse "Blain" Ventura, former governor of Minnesota, and Arnold "Dutch" Schwarzenegger, who announced his candidacy on August 6th. Ventura's last encounter with Predator ended in his grisly evisceration in the jungles of Central America and he was unavailable for comment. Schwarzenegger, however, responded defiantly to the news. "If it bleeds [voters], we can kill it [in the political arena]," he said.
Predator, who refused to remove his bio-helmet for photos, said one of his key objectives if elected will be reforming California's tough laws regarding weapons, stating, "The ability to defend yourselves, however fruitless, is germane to the thrill of the hunt [for the governorship]."
Ron Aldridge, a reporter from the Sacramento Bee, asked Predator if he thought that relative political obscurity represented a difficult hurdle to overcome, considering the other high-visibility candidates in the race. The creature responded by wordlessly training a three-point laser guidance system on Aldridge's forehead and fired a single burst from a shoulder-mounted plasma cannon, leaving a puff of red mist where Aldridge's head had been. His corpse tipped backward like a domino, still comically clasping a pen and notepad.
Predator then continued by joking, "My opponents say that it's time to 'clean house' in Sacramento. If elected, my gyro-controlled smart weapon will slice effortlessly through the bone and tendons of corrupt legislators and return to me, ready for more carnage. If they want to clean something, they can come clean that."
Indeed, many of Predator's references seemed directed toward Schwarzenegger, for whom the creature seems to have strong enmity. "He will not escape my wrath [when debating in an open forum]. Not even a serendipitous cloak of muck[raking] can hide him from the cold, emotionless gaze of my upgraded vision system. I'm no longer limited by the infrared spectrum, I assure you."
Predator concluded the press conference by activating a light-bending camouflage device and bounding away through the trees. Many in attendance thanked him for his statements, to which he said, "Anytime."