Bentonville, AR - Supply chain specialists at Wal-Mart headquarters announced today the retailer's new Radio Frequency Identification (RFID) initiative has confirmed what the buying public has long suspected: there is only one fruitcake in existence.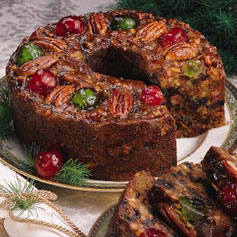 "We stumbled on this discovery by accident," said warehousing expert Evan Rutherford of OmniOpticon Technologies. "I needed a doorstop for my basement, and I did a quick query against Wal-Mart's inventory for something suitable. And there it was with multiple entries in the database transaction logs, plain as day --- serial number #54340912, The Fruitcake."
"Who would have thought that a dessert with such a promising list of ingredients --- ample amounts of brandy and rum --- could go so horribly, tragically wrong?" lamented Rutherford.
Most historians believe the origin of the fruitcake dates from the ancient Roman Empire where military engineers first devised the dessert as ammunition for their catapults and seige engines. In this century, NASA engineers employed the fruitcake as ablative shielding for the Apollo 11 crew capsule. The world's fruitcake supply was believed to have been depleted as the shielding burned away during the capsule's reentry, but the loathsome loaf resurfaced. It was found when the wreckage of the Russian carbohydrate-powered submarine the Kursk was salvaged from the bottom of the Barents Sea in October 2001.
Some alarmists in biotechnology circles have cited concerns about the possibility of cloning the cake, an event which would unleash an avalanche of awkward gift-giving blunder this holiday season. Luckily, however, Wal-Mart's RFID finding confirms the Congressional ban outlawing the unauthorized reproduction of unwieldy, excessively spiced cakes is being rigorously adhered to by everyone with a token amount of taste and decorum.
Pentagon officials could neither confirm nor deny the accuracy of the single-fruitcake theory.