Redmond, WA – Microsoft announced that Windows Vista will require more rigorous proof of ownership than is currently implemented by the Windows Genuine Advantage (WGA) program. Buyers of Windows Vista will have to send in DNA, fingerprint and retinal scan information to Microsoft to receive upgrades on their purchase.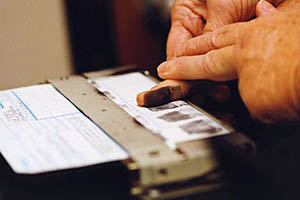 "We feel that to provide the user with the best computing experience that they need to be using genuine Microsoft products. Our current generation of WGA software can be easily bypassed, which is why we're setting up this more rigorous system," said Microsoft representative Vicky Tipton.
Tipton said Microsoft loses over six gazillion dollars in revenue each year because of software piracy and this plan will do nothing "to keep us from making up a bigger number next year."
Many customers worry that Microsoft won't be able to keep their data secure especially murderers and rapists who as we all know use Windows. "I'm not sure I trust Microsoft with my DNA information. What if hackers break in, steal my data and then cross check it with a database of unsolved rape and murder cases in the tri-state area?" said Vincent Booth of Trenton, New Jersey.
Murderers and rapists are not the only ones worried. Conspiracy theorists fear that Microsoft could be using the information to build a giant army of clones. Tipton denied the claims saying that, "If we were going to augment our army of clones, we wouldn't be doing it with DNA from crackpots like them."
Privacy advocates say this move by Microsoft could force many users to alternative operating systems like Linux where a policy like this would be impossible because there are no Linux drivers available for retinal scanners.
Recommend this Story to a Friend