Redmond, WA - The most anticipated feature of the newly release Windows Media player 10 is the Windows Movie Assistant designed to make movie watching easier and more enjoyable.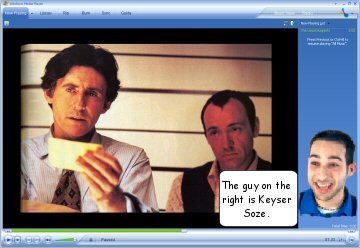 "Often, movie viewers feel that they didn't get the most out of the movie. Maybe they missed a plot twist, or they didn't understand what was going on," said Alvin Hematoma, product manager for Windows Media Player. "We designed WMA to be like a good buddy watching the movie with you, or that guy that talks too loud in the theater."
During playback, WMA will provide information to help the viewer. Whenever important information is revealed, the assistant will repeat the information, often with an explanation of why it is important.
WMA offers many other features including:
Foreshadowing ("He's Luke's father", "Don't worry, she won't die")
Warnings ("Scary part coming up, close your eyes")
Planning ("The next five minutes are boring - there's time for a bathroom break.")
Extensive analysis ("Fassbinder's use of mirrors hints at social and psychological problems")
Tips ("skin coming up - get ready to pause.").
"I love the feature, because now when I watch Memento with my girlfriend, she's not always bugging me about what's going on. The movie assistant tells her, so I don't have to," said Kyle Rosenberg of Evansville, Indiana.
Self-professed geek Aaron Coleman of Seattle also enjoys the feature. "Since his parents sent him to military school for hacking into the bank servers, I don't get to watch movies any more with my annoying friend Craig, so the Movie Assistant makes me feel like he's right there with me."
Not everyone is pleased with the feature, including several directors. Martin Scorsese said, "Movies are meant to be enjoyed, not explained. This will only increase the cinematic stupidity that our country experiences today."
Microsoft said they are working on ways to disable the feature for those not wanting the WMA, but Hematoma said he "couldn't imagine anybody wanting to do that."
Recommend this Story to a Friend