Tokyo, Japan – Nintendo turned a lot of heads with their new wireless game controller that uses motion sensors to direct action on the screen. A growing problem, however, losing their grip on the controller and throwing them through their TVs or injuring others.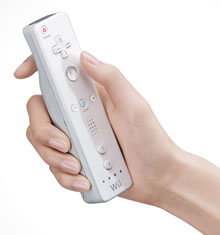 The Wii-mote, as the controller has been called, does come with a strap to keep it from flying away, but most people feel it's too uncomfortable and don't use it.
Kids in Japan have taken the innovative approach of using superglue to attach the Wii-mote to their hands. Parents see the approach as silly and dangerous, but teens in Japan see being Wii-handed as a status symbol.
"I like the Wii controller permanently on my hand. I never have to search for it, and the other kids think it is cool," said Yugi Tamagotchi of Tokyo.
Kids in other countries have come up with different solutions to the problem. Kids in the USA are more likely to use duct tape to hold the controllers in place than superglue.
"Those Japanese kids have lost their grip. If you superglue it to your hand then you have to buy a new controller for everyone that wants to use the game. Duct taping is much more practical," said Devin Chelsea of Cleveland, Ohio.
Some doctors have said that Wii fanatics have approached them about surgically implanting the Wii controller on their hands, but said while "technically feasible, would be ethically murky." Most concede, though, that it's only a matter of time before this happens.
As an alternative to super-gluing and duct tape, Nintendo has begun offering gamers a shatterproof cage to stand in while they are playing games. The Wii Cage is available for $299.
Recommend this Story to a Friend
Printer-Friendly Version