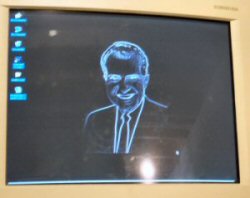 With the spread of the high-speed Internet connections and distributed computing projects, the number of computers contaminated by the ghost of Richard Nixon is on the rise. In fact, a recent survey by Dell showed that Tricky Dick haunts over one million computers.
The problem usually manifests itself as ghostly images of Nixon on your computer monitor. For many readers, that may not sound like a problem. However, the ghost of Nixon is also recording your keystrokes and Internet activity and sending it to the Republican National Committee. Your data will then be used by the RNC to vote multiple times on controversial ballot measures to outlaw same-sex book clubs. Now do I have your attention? This article will discuss ways to remove a computer haunted by the ghost of Nixon, and ways to prevent this from happening.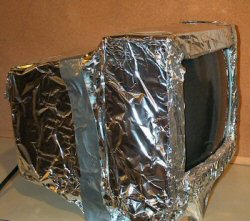 An ounce of prevention is worth a pound of blood as my leechologist always said, so the first step is to keep the ghost out of the machine. Conventional wisdom says that wrapping your monitor in aluminum foil will increase brightness and clarity, but many do not know that this is also the first step in protecting yourself from Nixon's ghost.
Be sure no openings are exposed. Foil-backed duct tape can be useful for closing exposed gaps, and keeping the foil in place. Also, be sure to use BBQ grade foil, and not cheap Chinese import foil as Nixon opened the doors to China.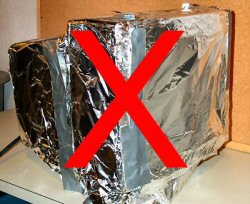 A mistake commonly made is completely covering your monitor. This can be dangerous as the monitor's harmful UV rays cannot escape, and a build up of these rays can cause an explosion. Wrap your monitor as shown and you will be safe from Nixon's ghost and CRT detonation.
Secondly, we recommend wrapping your video card in foil since reports of ghosts bypassing monitor vents and entering through the video chip have become widespread. One mistake commonly made when wrapping the video card is not covering the pins that go into the slot. These must be covered as well. Don't worry, the card will still fit into the slot.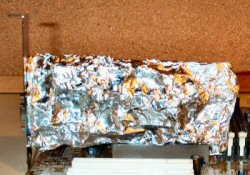 Some have suggested wrapping your CPU in foil, but that is a foolhardy suggestion. Not only do you run the danger of causing a short on your motherboard, but also Nixon was from California.
Shoving peanut butter in your modem outlet or stuffing your USB ports with steel wool are old wive's tales that modern science has proven ineffective.
You're probably thinking, "That's great advice, but what if I'm one of the millions already infected by Nixon's ghost?"
Thankfully, the removal process is rather simple. Get a shoe with a strong lace. Place in the shoe three AA batteries and a refrigerator magnet. Spin the shoe over your head so that it comes within two inches of your monitor. After 15 minutes of constant spinning the ghost of Nixon will flee your computer. Be sure you have followed the above instructions to avoid a reinfestation.
We hope this information has been helpful. As always BBspot Lab technnicians are licensed ghostbusters, do not try this at home or you could end up ruining equipment or hurting yourself.
Recommend this Story to a Friend