Redmond, WA - Bill Gates announced today that he found $1 billion dollars in cash in the back of his closet behind some old DOS manuals, which propels him back to the top of the Forbes "Richest Person in the World" list ahead of Carlos Slim.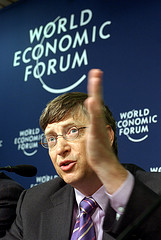 Gates placed second on this year's Forbes list by a mere half billion dollars behind the Mexican telecoms rich man. However, Gates has filed an appeal with Forbes, because of the newly found billion.
"I just plain forgot I had it," said Gates. "I think I hid it back there so I would have some money to buy Girl Scout cookies, and just forgot about it. I'm certain Forbes didn't consider this money in their calculations, so they need to reinstate me atop the list."
Editors at Forbes said they are reluctant to change the list until they see the money in person. Forbes editor Mark Miller said, "Gates sent us a photo with him by the money, but that could've easily been photoshopped. And, it's a big pile, but it's hard to know if it's really a whole billion."
Miller said that they get these calls from people on the list all the time, and most of them turn out to be false claims. "A few years ago Warren Buffet called me and said he found 1000 mint condition copies of Action Comics #1. I was dubious of the claim, and it turns out I had reason to be. He made it all up just trying to move up a spot," said Miler.
Miller did say that if Gates claims are true that the list would be readjusted to reflect the additional billion bucks.
Gates assured reporters that the money was real. "You can tell by the way I dress that I'm not a vain man, but I do value accuracy in numbers," he said.
Gates didn't say what he was going to do with his pile of cash, but that he might decide to make a Girl Scout "very happy."
Image courtesy of :http://www.flickr.com/photos/worldeconomicforum/ / CC BY-SA 2.0