Washington , D.C. - White House Press Secretary Scott McClellan announced a major update to the game "Iraq War." He suggested that the patch for Iraq War 2.0 would address many of the flaws of the first release version.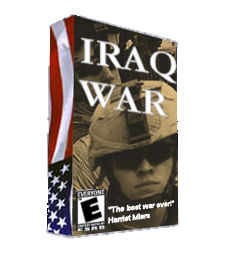 McClellan suggested the game had not been as popular as hoped and that this major update will address the issues. Among the list of improvements are the following:
Weapons of Mass Destruction – Many gamers were disappointed that these were not included in the original game. This was a much-hyped feature that did not happen in the current version. In this new version Iraq has WMD and it makes for a more balanced fight.
More allied nations are available for the "coalition of the willing," the selection in the current version is limited.
Humane treatment of prisoners by the U.S. troops. Something was clearly wrong with the AI on this one and it's been addressed in the new version.
Fixes the glitch where the Presidential "Mission Accomplished" cut- scene pops up in the middle of the game.
The "Saddam" villain has been tweaked to be more evil and less pathetic. Many people were disappointed with the capture sequence of Saddam, as it was anticlimactic. In this version his capture is an orgy of destruction with poison gas, nuclear weapons and kidnapped ex-pat children used as human shields.
The frequency of random "car bombings" has been reduced. This reduced the "support at home" value but was almost impossible to prevent.
The political model has been adjusted so the election is completed more rapidly and the puppet government installed sooner. This produces a much quicker endgame sequence, as the current version drags out a little.
In all it's a comprehensive list of updates the White House hopes will make for a more enjoyable, more popular game all around.
Recommend this Story to a Friend