Lincoln, NE – According to a recent poll conducted by the National Institute of Child Health and Human Development, the top career aspiration for boys between the ages of 8 and 13 is to become a "gamba streamer" on Twitch.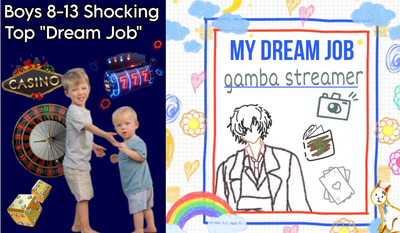 The poll surveyed over 1,000 boys across the country and found that a staggering 78% of respondents said they dreamt of becoming a gamba streamer when they grow up.
For those unfamiliar with the term, a gamba streamer is someone who streams their online gambling sessions on Twitch, a popular video streaming platform. These streamers often play games like poker, blackjack, and slots, while chatting with their viewers and collecting donations.
Makers of gambling websites have noticed the trend and have started to create games focused on that demographic with Roblox and Minecraft-themed slot machines being among their most popular. Slot machine maker International Game Technology (IGT) said they're working on Paw Patrol and Baby Shark-focused games.
"I love playing games and I love winning money, so it just seems like the perfect career for me," said 10-year-old Timmy Johnson. Others pointed to the popularity of gamba streaming as a factor in their career aspirations.
"Everyone watches gamba streams these days, it's just the coolest thing to do," said 11-year-old Joey Ramirez. "Hopefully, Twitch updates their bullshit stance on gambling, I don't want to have to go to Kick."
Despite concerns from parents and child welfare advocates, the boys seem determined to pursue their dreams of becoming gamba streamers.
"I know it might seem weird to some people, but I think it's a really fun and exciting job," said 9-year-old Billy Chen. "Plus, I get to be my own boss and make my own schedule."
Michael Briggs contributed to this article.