Bellevue, Nebraska – In a move to assert his right to share his Netflix account with family and friends, local man Barry Smith announced plans to circumvent the streaming giant's password-sharing rules by creating a complex network of VPNs and virtual machines that will cost him upwards of $10,000.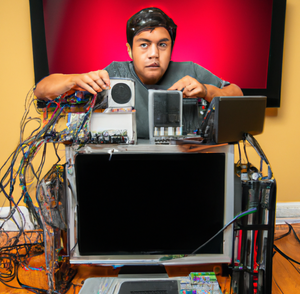 "I refuse to be bullied into paying for multiple Netflix accounts just because they want to enforce some arbitrary rule," Smith declared in a press conference outside his suburban home. "I'm a free man, and I'll share my Netflix with whoever I damn well please no matter what the cost."
Smith's plan involves using a combination of virtual private networks (VPNs) and virtual machines to create a network of fake users, all sharing his single Netflix account. The system will be so complex that Netflix's algorithms won't be able to detect password sharing, according to Smith.
"I've spent countless hours researching and testing different VPNs and virtual machines to ensure this plan will work," he said. "I won't rest until I've beaten the system."
Smith's plan has drawn criticism from Netflix executives, who have warned that it violates the company's terms of service and could result in legal action.
"Sharing your Netflix password with others is against our rules, plain and simple," said Netflix CEO Reed Hastings. "We understand that people want to share their accounts with family and friends, but we have to protect the rights of our content creators and the integrity of our service."
Despite the potential legal risks, Smith says he's prepared to go to great lengths to assert his right to share his Netflix account.
"I'm not afraid of Netflix's lawyers," he said. "I'm a rebel, a renegade, a man who's not afraid to stand up for what he believes in. And what I believe in is sharing my Netflix password with as many people as possible."
When informed that it would only cost about $10 a month to share the account, Smith proclaimed, "I'm a man of principle, not a man of intelligence."