Menlo Park, CA – Sam Bankman-Fried, the criminally indicted founder of FTX, has unveiled his latest project: CryptoPrison. This groundbreaking initiative partners with Mark Zuckerberg's Meta and aims to revolutionize the way we deal with crypto-criminals by punishing them in the Metaverse.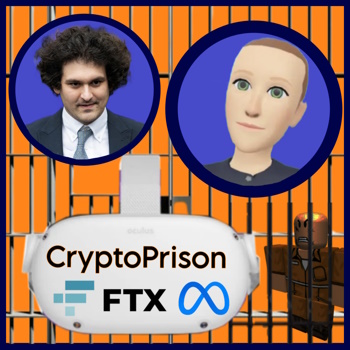 "We need to stop wasting our tax dollars on jailing these scammers," said Bankman-Fried. "Instead, they should serve their time as community moderators in the Metaverse. It's much more of a punishment to spend days in the Metaverse than solitary confinement at Leavenworth."
According to Bankman-Fried, this new system would finally offer a fair punishment for those guilty of crypto-currency related crimes. "Facing real life consequences for online crimes just doesn't make sense," he explained. "Crypto crimes should have crypto consequences. What's more American than that?"
But not everyone is convinced. "This is ridiculous," said one critic. "Why should these criminals get to serve their time in a virtual world? What about the victims who lost real money because of them?"
Others have raised concerns about the practicality of the plan. "How would this even work?" asked another skeptic. "Do we really want convicted criminals moderating online communities? Although, I'm not sure how it could be worse."
Bankman-Fried remains optimistic about the future of CryptoPrison. "Mark Zuckerberg and I are committed to making this a reality," he said. "We believe that it's time for a change, and we're excited to see where this takes us. Developing this idea is totally unrelated to the current charges pending against me."
It's not unprecedented that different criminals get different punishments with many white-collar criminals being housed at prisons dubbed "Club Fed" for their more comfortable accommodations. Virtual reality prisons, however, are a completely new concept.
Do Kwon, founder of Terraform Labs, is also an investor of the project.
Michael Briggs contributed to this story.