USA – After the debacle in Florida in 2000, Americans were relieved the Presidential election was decided without any major messes and let out a collective "Baa".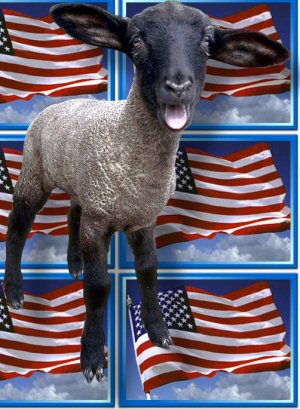 Chief Shepherd for the Republican Party, Evan Caswell said, "It brought a tear to my eye to see Americans herded to the polls in record numbers. It renews my faith in the democratic process that once again America was able to choose between two rich, white males."
Exit polling showed that not only was the campaign grueling for the candidates but also for the voters. "Our polls showed the average time spent picking a candidate averaged almost five minutes, with some voters saying they wasted over fifteen minutes at the extremes. That's up three whole minutes from 2000," said pollster Frank Trotsky.
"I voted for Bush, and I'm glad I did," said suburban mom Callie Banks. "He's already the President, so he has the experience that I look for when picking a Commander in Chief."
Voters expressed relief that so many of the voting decisions were made for them this year, with George W. Bush being a conservative Texas protestant and John Kerry being a liberal Massachusetts Catholic. "I'm not sure what I would've done if say Bush were from Maine or something," said one voter.
"I'm disappointed my man lost," said Tennessean Allan Rudloff "I thought after the Red Sox won and the Redskins lost, that it was a sure thing. I didn't even bother to vote."
Wool traded lower at the Chicago Board of Trade.
Recommend this Story to a Friend