Lufkin, TX – The workers of Selby Communications are happy once again this morning, as their Office Jesus worked his miracles with the coffee machine.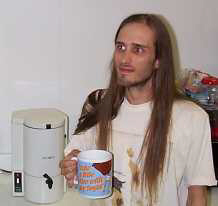 Every morning for the past three years Jesus has been making coffee and sharing his words of wisdom with the people of Selby Communications.  "Fellow workers, we have a mission today to get broadband services to my children of east Texas.  Drink of this coffee, it is my blood.  Eat of these bagels they are my body.  Now go out there and sell, sell, sell"
"The blood part kinda creeps me out," says co-worker Avery McPhail, "but it's damn good coffee. I love his Sumatran-Mocha blend."
Before Jesus arrived Selby Communications was a coffee-less company with only $2.3 million in sales. Now the coffee is flowing and they are approaching $78 million. All thanks to Jesus. These facts haven't gone unnoticed by company executives who promoted Jesus to VP of Coffee Making and Security.
President Henry Thomas said, "I think we hired him as a security guard originally. I saw him tinkering with the coffee machine one morning and told him that it hadn't worked for years, that it would take a miracle for it to start working again. The next thing I know I've got a hot cup of Ethiopian blend and I'm loving it."
Selby Communications is a privately held company, which sells broadband and wireless services in East Texas and parts of Louisiana.