Detroit, MI – Ford Motor Company announced today the new Ford Exorbitant. The Ford Exorbitant seats 50 comfortably, and even comes with a spare Ford Explorer. The Exorbitant, built on a standard bus frame is the largest SUV ever manufactured. Aside from the spare Explorer, other standard features include a full kitchen, 3 bedrooms, and 1.5 bathrooms.
"Many people have given up their own home and use the Exorbitant as their only living space. It's much more convenient than finding a place to park the Exorbitant," said CEO Jacques Nasser. He continued, "No longer will you be stranded if you run out of gas, or get a flat tire. Sure you could use your cell phone to call for help, but who wants to wait for help? Just unload your Explorer and take care of the problem when you want to."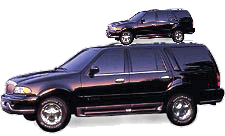 "I just love it," said soccer mom, Wendy Glickman, "I feel a lot safer knowing I have the spare Explorer. What if I forget my cell phone? What if the GPS in the Exorbitant fritzes out? Half a million dollars is a small price to pay for peace of mind."
Many environmental groups have voiced concerns over the Exorbitant's nuclear powered engine. "Gee, you make a car that doesn't run on gas and they still complain," responded Chairman William Clay Ford, Jr. "This vehicle gets 70,000 miles per enriched Uranium rod, which makes it the most environmental friendly SUV available."
The Lincoln Gigantro based on the Exorbitant will be available next year.