Washington D.C. – Top national security officials at the White House said they were concerned about a new viral Tik Tok challenge called the Red Flag Challenge. The challenge that has been popping up on the ubiquitous video platform encourages users to take videos of themselves standing in front of military bases and other top-secret government facilities waving a red flag.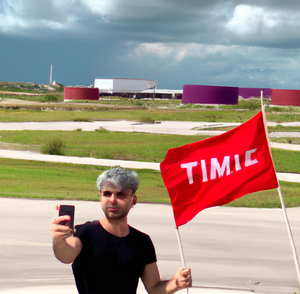 Phillip Hightower, Chief of National Intelligence said, "We're concerned that this challenge is directed by the Chinese government to gather information about sensitive military and other intelligence assets of the United States."
While many participants may be unaware of the challenge's true intentions, it is believed that the Chinese government is using the photos to identify potential recruits for their intelligence agencies.
Popular TikToker DefinitelyNotASpy, who started the challenge says the concerns are overblown, "My fellow American comrades. Do not worry about this challenge. It is just for fun. Flying drones over military bases and taking pictures is hilarious. Look! Is that a balloon?"
The worrisome challenge comes at a time when Tik Tok is facing increasing scrutiny around the world and is even being banned on government devices in several countries including the US and Canada.
Several TikTokers have been shot outside military bases trying to get videos for the challenge causing the company to issue a warning to its users. "We take the safety and security of our users seriously," the warning read. "We strongly discourage any behavior that could put individuals or our great American country at risk."
As the Red Flag Challenge continues circulating on Tik Tok, authorities are urging users to think twice before participating in any online trend and to report any suspicious activity to law enforcement.