Vatican City - The Pope announced that he, along with several prominent Protestant leaders are releasing the Bible to the open source community. The project details can be found at SourceForge.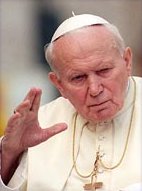 The biggest complaint about the Bible has been about the numerous variations of the book. Therefore the project's main goal is to unify the different versions of the Bible into one coherent work.
"While merging the different versions together is the main focus of this project, we will also be working on removing the code bloat and feature creep the Bible suffers from," said co-project leader Nancy Devereaux, "We hope to cut out a lot of the redundancy and reduce the feature set."
Many think the project is too ambitious. "Bringing the versions together is a great idea, but I think the project should first focus on removing the logical errors and outdate concepts in the Bible," said programmer Henrik Schmidt.
Many Protestant leaders are upset that the Pope was named project leader. Fearing he would have too much influence over the direction of the project. The Pope said, "All those guys like to do is bitch, they've probably never written a line of the Bible in their life. I'm too busy dealing with all the flamers to worry about influencing this project."
Bible users can expect a Beta version of the new Bible (codenamed: goat-scrot) by summer of 2001.
SourceForge: The Bible Project