Washington D.C. - The availability of pornography on the Internet has many parents concerned. Parents feel that their children aren't challenged in their search for porn and that this could have an adverse affect on their development.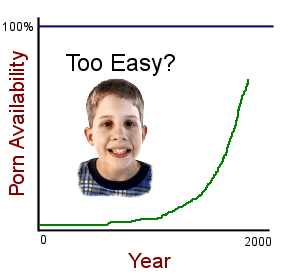 "Kids these days just don't appreciate a tough porn hunt," said Geoffrey Miscisin. "When I was a kid, I found a Playboy magazine in good shape and I was ecstatic. The difficult challenge was a character builder. My 13-year-old finds on-line videos of nonstop orgies, and just yawns."
Porn access historians note that the declining difficulty in obtaining porn started with the advent of the VCR, where tapes could be easily traded. The next step was the arrival of the Victoria's Secret soft porn catalog delivered directly to your home. Finally, with the arrival of the Internet, pornography has now become harder to avoid than it is to find.
One concerned parent, Melissa Miller said, "Is this the kind of message we want to send to our children? That everything will just dance into their laps. America is raising a generation of porn slackers."
Congress is working on legislation that would make it more difficult for children to find porn on the Internet. "We don't want our children to fall behind countries like China who make it more difficult for their kids to find porn," said Senate minority leader Mitch McConnell.