Washington DC - Bill Clinton signed into law yesterday legislation that makes Linux bashing an offense covered under the hate crime statute. Anyone convicted of Linux bashing will now face Federal charges. The law is in response to the recent beating of a Linux user at the University of Colorado by a Windows 2000 Users Group.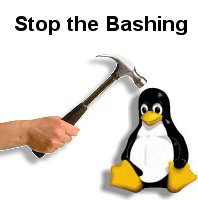 Law enforcement officials have been given some guidelines to follow when determining if a crime is covered by the statute. For example if a person beats someone to death with a hammer they would just face murder charges in a state court. However, if a person beats someone to death with a hammer while yelling "You Linux using bastard," then they would be charged under the hate crimes statute and face trial in a Federal court.
Many oppose the law, because they feel that it is unfairly targeted at one particular group. "This makes it near impossible to do our job properly without breaking the law," said Microsoft PR representative Bailey McClain, "the Feds are taking away one of our most useful tools."
It is commonly believed that 10% of the population are Linux users. Linux users often hide their use from friends and family members. Meeting other users in Linux only bars or IRC channels. Openly Linux using people often face extreme prejudice and discrimination from co-workers and IT departments but say that this bigotry must be confronted. "I've never been beaten because of my open sourceness, but I get a lot of 'Linux sucks' comments," said Jared Yttrium, "I'm glad the statute is there to protect me."
Others in the Linux community were confused by the ruling. "I went to Linux Bash 2000 and it was one helluva party. The feds shouldn't be stopping that," said Jacques Robert.
In related news Microsoft Windows users are now covered under the Americans with Disabilities Act.