Santa Barbara, CA - Former President Ronald Reagan has requested a recount in the 1984 Minnesota presidential election. Minnesota, the home state of Walter Mondale, was the only state lost by Reagan in his landslide victory for the presidency.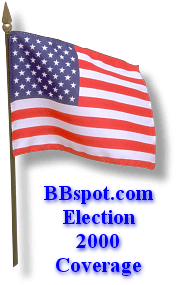 Former President Reagan said, "Losing Minnesota by less than 4,000 votes has always bothered me. I mean the damn Fritz said he was going to raise taxes. I can't believe that anyone would've voted for him. Where am I?"
Minneapolis resident, Quincy Williams agrees, "Sixteen years later and I'm still being teased mercilessly by friends in Wisconsin and Iowa. The only way to stop this would be to have a recount. The honor of the people of the great state of Minnesota must be defended. Do we want to be remembered as the only state that loser won."
Minnesotan Ted Svenson said, "I remember some voter irregularities at the time. I thought I voted for Lyndon LaRouche, but it was pretty confusing so I could've marked Walter Mondale instead. I think a manual recount is justified."
Loser of the election Walter Mondale fully supports the recount, "I can't be humiliated any more than I already was. I would like to at least go down in history for something. I don't want my legacy to be: The Man Who Couldn't Even Lose Every State."
Some Republicans object to the recount saying that Mondale is just trying to win the coveted "Loser of the Century" award, and losing all 50 states would definitely clinch a victory over the Buffalo Bills.