Los Angeles - Concerned television and film executives met in Los Angeles today to discuss a recent University of Michigan study that showed the amount of crap on the internet is growing much more rapidly than the amount of crap on television and in the movies. Movies are getting longer, more infomercials are being run, more Real Worlds are being made, and yet still Hollywood cannot keep up.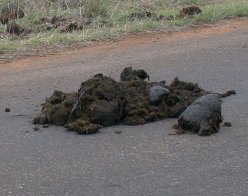 The internet has leveled the crap playing field so everyone from Britney lovers to dyslexic manic-depressives, and not just high powered Hollywood executives can dump their crap on the world. Sure Hollywood still has John Travolta to produce rancid piles of crap, but the internet has its legions of high school and college students writing web logs by the thousands.
"Even with Aaron Spelling we can't keep up with the internet," said NBC programming executive Harry Buttons. "Titans airs once a week, but each day hundreds of new crappy sites go online. Our only option may be to start an all Aaron Spelling channel."
"It's a new era and the dinosaurs in Hollywood just can't keep up. New metrics are being set," said internet guru Nick Buchanan, "The internet is producing crap in volumes never seen before. In fact we expect that in 2001 the internet will produce more crap than has been produced in the entire history of time."