Redmond, WA - Microsoft announced yesterday their upcoming version of Office will cure cancer. Many believe this is the killer feature the software giant needs to spur upgrades in its aging Office Suite. Microsoft believes the biggest revenue stream will come from users who purchase the subscription version of Office XP. "When faced with the prospect of their cancer returning at the end of the year, we are pretty confident that they will renew their subscription," said VP of marketing Andy Marskin.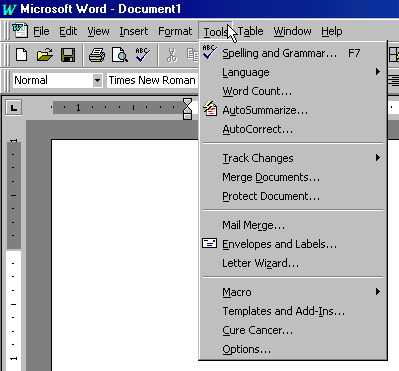 Mr. Marskin denied that the cancer curing feature was included because earlier versions of Office actually caused cancer as Linux advocates had suggested. He said, "Those accusations are completely groundless, although we would suggest not pressing CTRL-C too many times unless you really have to."
"The feature will be fully integrated into each program in the suite," said Microsoft programmer Halley Grey, "It doesn't matter if a user is developing a presentation in Power Point or working on a spreadsheet in Excel. All they have to do is go the Tools menu and select the Cure Cancer option and it will give them a choice of which cancer they would like cured."
Some users complained that this is just another example of code bloat and feature creep from Microsoft. "It was bad enough to have a flight simulator in Excel, but now a cure for cancer?" said Kris Koskelin. "Who needs that kind of feature in a word processor anyway? VI will do me just fine."
Other users complained that they've heard these promises from Microsoft before. "I'll believe it when I see it," said Debbie Cho, "We saw this back in the days of Windows 3.11 when they promised that Windows 95 would make you immortal, and again when they said that Internet Explorer would bring about world peace."
Competitors are scrambling to match Microsoft on the cancer curing feature. Sun announced today that its Star Office product will cure hepatitis and rickets with its next release.
Microsoft will enforce a strict licensing policy, where only the original purchaser can be cured of cancer. Additional licenses will be needed if a family member or loved one becomes cancer stricken. Microsoft claims the Office Professional version will cure 36 different types of cancer, while the Home Office version will cure 12. Microsoft's stock was up slightly on the news.