Sunnyvale, CA - AMD revealed today it's new line of processors called the Moron. Jerry Sanders CEO of AMD said, "This is a proud day for AMD as we continue the success that started with the Athlon to the Duron and now the Moron. We wanted a name that signified that the processor had "More Power" than the Duron. Hence Moron."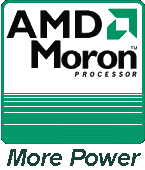 He continued, "Our target market for the Moron is in servers running Windows 2000. A Moron and Windows 2000 are a perfect solution for any company planning to enter the e-commerce marketplace."
The AMD Moron processor is derived from the AMD Duron™ processor core and features full-speed, on-chip L2 cache memory, a 200MHz front side system bus, and enhanced 3DNow!™ technology.
Tim Allen has been tapped by AMD as the spokesman for the Moron processor. "I'm happy to be behind the Moron. I'm not sure exactly what it does, but Jerry tells me it has more power and I love more power, ARR, ARR, ARR!"
Tech analyst Ashok Minmar said, "The prototype Moron processor has impressive performance and exceeds Intel's Itanium and even their yet to be released Otassium processor in key benchmarks. However, I think it might be the worst product naming disaster since GM sent the Nova to Mexico."
The Moron chip is the first product from AMD's secretive Moron Design Team, and is the first chip from AMD to use the new copper process developed by IBM. AMD plans to start shipping the Moron processor in late August. AMD's stock was down on the news.