Los Angeles, CA - Teen pop sensation Britney Spears, whose hits include "Oops I Did It Again" and "Baby, One More Time" is recovering today in a Los Angeles hospital after her breasts exploded while filming her latest video. Three other people were treated for minor injuries.
"I was rigging the mics, when I heard this loud explosion. There was breast matter and silicone everywhere," said Bill Stephens. "I think she may have gotten too close to the lights then....BANG."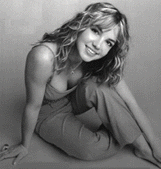 Doctors say the cause was a combination of a second breast enlargement surgery she underwent recently, and the high energy dance routine in the video. "Her body just couldn't handle all the bouncing. Fortunately her tight leather outfit contained most of the blast or a lot of people could've been hurt. She is recovering nicely and will be just fine," added Dr. Thomas Wilkens.
Dancer Wendy Johnson said, "I was blown back about three feet when it happened. Lucky for me she was facing away from me at the time."
The video being filmed was the soon to be released cover of "There Ain't No Mountain High Enough." Production has been delayed until Ms. Spears has fully recovered.
"Britney has never had breast augmentation surgery," said her agent Linda Smithers, "Let alone two. She just went through another growth spurt."