Los Angeles, CA - Insiders at Warner Brother Studios have reported that The Matrix Parts 2 and 3 will actually be the same movie and just retitled. The technique known in the industry as 'retitling' was pioneered on television sitcoms, and first used on film in the 'Friday the 13th' series of movies.
"What did you think we meant when we said we were filming the two sequels at the same time?" said the Wachowski brothers, directors of the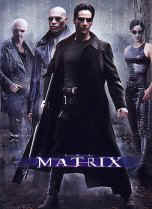 first film. "We don't think most people will notice. The average moviegoer saw the first film 11 times. They can't be that bright. The great thing is the actors don't even know. We only used them for about 15 minutes. The rest is all computers. I don't think Keanu will ever figure it out."
The producers of the movie said, "We toyed with the idea of just releasing the first movie as the sequels, but we figured that would be too obvious to the clever American public." They continued, "Usually the third movie in a sequel sees quite a bit of drop off in quality. This way we can guarantee it will be as good as the second!"
A Warner Brothers official denied the report, "They aren't exactly the same. I mean one is called 'The Matrix: Part II', and the other is called 'The Matrix: Part 3 - Part 2 Revisited', isn't that enough of a difference?"