Redmond, WA - Microsoft today announced that it was releasing the source for the 35,000 bugs in Windows 2000. The source is a Junior Programmer of Alpha Team, Kevin Mills.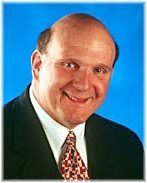 "I'm a little embarrassed," said Kevin, "I just started programming last year. I told them this was a little over my head, but they told me good programmers are hard to come by these days."
The source of the bugs has been a closely guarded secret on the Redmond campus for some time. Rumors began circulating early last week that Microsoft may release the source as part of their settlement with the Justice Department. This early release is seen as a preemptive strike to avoid a break up of the company.
"Today Microsoft takes its first steps in embracing the open source movement," said CEO Steve Ballmer. "Our next step will be to release the source code for our programming robots who generated most of the code in Windows 2000." The statement is also seen as an admission that Microsoft uses programming robots in generation of its code. A rumor that has long been denied.
Open source advocate Kyle Wilhelm said, "I don't think they quite understand the meaning of open source."