New York - Popular daytime talk show host, Rosie O' Donnell, announced today that she is hiring an armed bodyguard to protect her child from her giant head. Rosie said, "One morning someone knocked at the door and it startled me. I turned my head too quickly and it knocked my kid across the room. I knew then it was time to take steps to ensure his safety."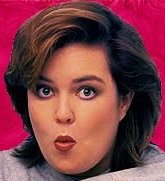 This isn't the first time a star has done this. Last year Oprah Winfrey hired a bodyguard to protect her longtime boyfriend Stedman Graham from her massive cranium.
The bodyguard is former secret service agent Les Moore, "I'll be there in case Ms. O'Donnell turns around too fast or nods her head without looking. I would take a bullet for the President, and I'll take a head for this kid." He continued, "My life insurer dropped my policy when they heard about this job, but Ms. O'Donnell said she would take care of my family if anything were ever to happen.
Many parents are concerned about having an armed bodyguard at school. However, the bodyguard will not be necessary on school grounds as Rosie's head is not allowed within 500 meters of the school after an incident last fall.
Tom Selleck said, "What America needs isn't more gun control laws, but more laws protecting us against giant heads."