San Jose, CA - Cisco Systems announced yesterday that it purchased Tom's Nets for $2.3 billion in cash and stock. Tom's Nets is the leading fishing net and fishing net accessories supplier in Tillamook, Oregon. Tom's Nets is privately held by Tom and had sales of $0.63 million last year, but was profitable.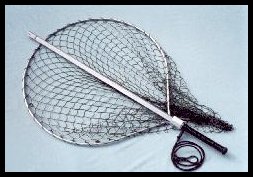 "I got a call yesterday asking if I wanted to sell my business for $2.3 billion. I thought it was a joke. Next I knew, I was signing the papers," Tom said. Cisco has a history of keeping the employees of acquired companies and it appears the Tom will stay on to run the new Net Division.
"This is an exciting day for Cisco Systems. Tom's Nets is the leading supplier of net products in northwest Oregon." said CEO, John Chambers, "This acquisition is part of Cisco's plan to dominate all net markets. Once again we are first into this market. I don't think Lucent has even thought about this market."
Lucent responded to the charges of being a Johnny-Come-Lately by purchasing nearby Frank's Bait and Tackle for $2.8 billion. "Cisco may have been first in this market, but with our purchase of Frank's Bait and Tackle we have a much broader product line than Cisco in one fell swoop."
Wall street analysts were confused by the deal, but several stated that nothing surprised them in this crazy market. Bear Stearns analyst Ken Hibbard said "They are either running out of computer networking companies to buy, or they didn't do proper due diligence. Either way I think they overpaid by about $2.29 billion."