New York - New Yorkers and TRL fans are breathing a little easier these days now that the citywide brainhunt is over. Brooklyn resident Harold Henderson found Carson Daly's brain in an alley outside of his apartment building, prompting Mayor Giuliani to call him a hero and call an end to the brainhunt.
Henderson said, "We were out lighting some firecrackers off when Frankie said, 'Hey, isn't that Carson Daly's brain you're stepping on?' I didn't believe him, but when I picked it up, that's what it was all right."
Henderson's hero status may be short lived, however, as he has passed up the $10,000 reward for the brain and instead is auctioning it off on eBay. At last check the bidding was up to $15,000 with the top bid entered by a user named mjackson. MTV personality Tom Green is rumored to be in on the bidding also, in an effort to add to his MTV Body Part Collection which contains his recently removed testicle, and Real World star Puck's middle finger.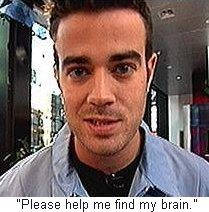 Teenage girl fantasy, Carson Daly has been without his brain since last September, when he lost it during a wild party after the MTV Video Music Awards. Daly had kept it a secret from the producers of the show, but had been slowly deteriorating. The brain loss became public when an obviously brainless Daly repeatedly pleaded, "Will someone please help me find my brain," during a live broadcast of TRL.
This plea prompted the citywide brainhunt. Mayor Giuliani said, "Carson Daly's brain is a very important asset to the city, and we have been doing everything in our power to find it. I just thank God he didn't lose his eyebrows. That would have been devastating."
Even if Carson is unable to win the bidding war for his brain, the producers of the show say that his job is not in jeopardy. Sources inside the show have been quoted as saying that they noticed very little difference between the brainless Daly and the brained one. They also stated that this has no relation to the recent success of artists such as Britney Spears and Eminem.