Phoenix, AZ - The Have-A-Dream Foundation has named rapper Eminem to its newly created position of Chief Wish-Denier. The move comes after critics claimed the organization has been spending too much money granting dreams to children with life threatening diseases.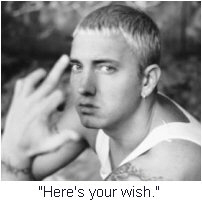 "Sure making critically sick children's dreams come true is a pretty good cause, but it's expensive. So we are cutting down on the number of dreams we grant. Who better than Eminem to tell terminally ill children that they can't have their wish," said Have-A-Dream Vice Chair Cynthia Hobart.
Many think that Eminem may not be up to the task, that his raps dissing people from Christina Aguilera to his own mom are all just an act. Little Kelly Smith, who has been given just a few more months to live, disagrees, "I won't get to visit the Grand Canyon like I always dreamed, but being told by Eminem that I was a 'whiney little bitch' was just as good."
"I wanted to go to see the Yankees at the World Series," said leukemia sufferer Timmy Johnson, "but Eminem told me that I was gonna die soon anyway so why bother? It was pretty cool." The Have-A-Dream Foundation saved over $7,000 on those two wish denials alone.
Eminem has also written a song to be used in the new Have-A-Dream ad campaign that publicizes their wish-denial efforts:
What a little kiddy in the wheelchair?
Going to Disney World?
No way, uh-uh, not going there.
I think I'm givin' you a push over a cliff, cause
Your mom is on my lips,
Your mom is on my lips.
And there ain't no way you gonna get your wish.
Little Tina wants to go see NSYNC instead,
Think again, you idiot, NSYNC is dead.
Why you wanna go see them anyway,
Didn't you realize NSYNC is gay?
What did Slim Shady just say?.
Say yes to your wish?
Uh-uh, no way.
You can download my audio on MP3,
But you ain't getting no wish from me.

In reaction to Eminem's newest rap, NSYNC categorically denied that they are dead.