Washington D.C. - The Federal Trade Commission (FTC) is expected to announce tomorrow that they will allow the merger of the Bloods and the Crips to proceed. "We found that there are several alternatives in the gang marketplace, including the Mafia, Skinheads and the KKK," said FTC Chairman Robert Pitofsky. "While all these groups aren't specifically categorized as gangs, they do operate in the same marketspace. We feel that there will remain adequate competition in the gang industry."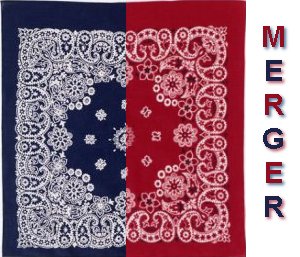 Many critics including the leader of the Hell's Angels organization think otherwise, "Consumers are going to pay the price for this merger. They should expect to pay more the next time they go to the street corner to purchase illicit drugs. The FTC is making a BIG mistake."
When asked about the increase in prices Bloods' leader Smooth Ice said, "We expect tremendous cost savings from the merger, which we intend to pass along to the users. Most of these cost savings will come from layoffs. We also expect that the synergy between the two organizations will result in increased productivity and even greater profits."
Several Crips and Bloods are worried about the announced layoffs. "I'm on one street corner. Huggy D is just down the block," said gang member G-Nice, "You think they're going to keep both locations open? I don't think so. I'm gettin' my numbers up so I'm not the one looking for work."
Gang analyst for Lehman Brothers Tom Allison said, "We expect this to be the first of many mega-mergers in the gang industry. There are just too many operations and not enough territory. There should be tremendous savings as duplications in the distribution channel are wiped out."
The Bloods-Crips merger was prompted by increased foreign competition in the gang industry mostly from Russian and Chinese based gangs, and the recent purchase of the Redmond Renegades by Microsoft.