Santa Clara - No one thought that last year's craze of inter-aural cellphone implants and inter-cranial pagers could be topped, but they were wrong. This year, the cutting edge executive is surgically implanting her Palm Pilot directly onto her hand. Just a few skin grafts and four screws, and the useless left hand now becomes a highly efficient PDA holder.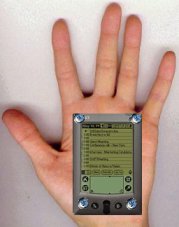 The Palm Pilot Implant surgery was developed jointly by Palm, Inc. and Johns Hopkins Medical Center after extensive market research by Palm revealed a strong demand.
"Several executives complained about losing their PDA, dropping their Palm Pilot or thieves stealing their Palm Pilot. At Palm we reacted to this customer feedback by perfecting the Subdermal Palm Pilot Insertion technique along with surgeons at Johns Hopkins. Now it would take a machete wielding madman to get your Palm away from you."
Another benefit of the implant is that there is no more waiting for your Palm Pilot to recharge. The Palm Pilot Implant uses a system of bio-electric cells to get power from the hand itself. While a little tingling may be felt because of the process, it does have the positive effect of burning calories.
The initial feedback from the field has been very positive. Harold Selby, President of Selby Communications said, "Sure the surgery is extremely painful, and it makes it a little harder to hold a golf club, but it looks really cool and I've lost 3 pounds by recharging it myself." Geoff Duncan of Kemlo Marketing said, "I used to have to reach for my Palm V in my shirt pocket. That cost me about 10 seconds of time. Now I just look at my left palm and BAM!!! I've never been more productive."
Now that stock options as a perk have lost their luster, many companies are searching for new benefits they can offer their employees. New college grads have put Palm Pilot Implants at the top of their list for perks they are looking for in a job. Many won't even consider a job unless a Palm Pilot Implant is part of the benefits package.
The first surgeries performed have been permanent, but Doctors are working on ways to make the Palm Pilot removable so upgrading to a new system will be less painful. Implants are compatible with both right- and left-handed people.