Dulles, VA - AOL announced yesterday their new 1000 hours/month Platinum plan for $23.95/month. They also announced that the unlimited time plan would be renamed the Gold Plan and be reduced to 750 hours/month, but would still have a monthly fee of $21.95.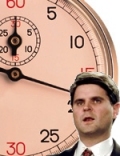 AOL CEO Steve Case said, "This is a fabulous opportunity for our customers. We are offering them 33% more time online for only 9% more. This is the truly the deal of the century."
Many of AOLs current customers agree. The new plan was only announced yesterday and already 300,000 AOL customers have upgraded to the new plan. "This is awesome," said Rufus4562. "I haven't seen a deal this great since Sprint offered 100,000 minutes a month for $2000. That's only 2 cents a minute!"
The new plan was also attracting new users to AOL. "I'm not sure how many hours per month I'd spend online," said new Platinum Plan member Karen Fitzsimmons, "but I'm certain that platinum is better than gold, and I'm pretty sure that 1000 hours is better than 750."
Not all customers are happy about the new plan. "I keep my computer connected 24/7 and the unlimited plan was perfect. Now that it's only 750 hours a month I'm not sure what I'm going to do," said mAtHwIz, "I think AOL is going to loose (sic) a lot of customers over this. I'm thinking of starting a boycott."
Most Wall Street analysts stated that the 1000 hour plan was very attractive to consumers. Stan Williams who follows AOL for Merrill Lynch upgraded the stock to a strong buy from a buy and added, "The initial adoption of the plan has been very positive and with the math skills of AOL users we expect it to continue. This should be very positive for earnings going into the fourth quarter and beyond." AOL's stock was up 1/2 on the news.