Los Angeles - It isn't likely that Calista Flockhart will ignore another Strong Winds Warning any time soon. As a result of her cavalier attitude the waifish Ally McBeal star suffered a broken spine and severe head trauma.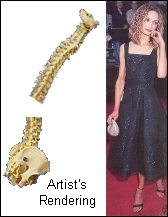 A close friend of Ms. Flockhart said, "She knew it was dangerous to go out without her support brace on, but she was just Jonesin' something fierce for a bean burrito and ran over to the Qwik-E-Mart. If she had just turned sideways instead of walking headlong into the wind, maybe her spine would still be in one piece..."
"She was leaning into the wind, and then I heard this snap," one witness said, "Her torso just flopped over backward and her head hit the ground kinda hard. I hope she's OK, cause I'm not sure what I'd watch on Monday nights at 9." Emergency workers who were first on the scene described it as "disgusting," and "like a mean kid got a hold of a Barbie doll." Passersby were amazed by the large amounts of blood.
Doctors at Cedar Sinai Medical Center say that chances are good that she will survive the injuries, but it is unlikely that she will ever be able to walk again. FoxTV executives are overjoyed with the news, mentioning the large ratings boost a paralyzed star can bring, "Just look at the numbers Barbara Walters pulled down when she interviewed Christopher Reeve. This is a miracle!"
FoxTV executives also said they will cover the $500 fine Ms. Flockhart incurred for ignoring the Strong Winds Warning, which the City of Los Angeles instituted several years ago to help prevent injuries to supermodels and over thin actresses.
Friends star, Courtney Cox-Arquette, was out of town filming "Scream 4: I Know What You Did in Scary Movie" and escaped injury.