Washington DC - Al Gore announced today his plan to supply drugs to senior citizens today using funds from Medicare.
"As I travel across this great land of ours, there is one constant message I am hearing from senior citizens," said Gore, "and that is 'We want free drugs'."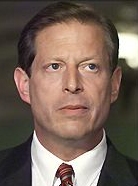 "That is why my plan will give each American over 65 free Maui-wowie over a 12 month period. This will stimulate their appetite which will increase their food consumption which will be good for America's farmers in the heartland. My opponents drug plan is limited to prescription drugs. Let me tell you, fancy prescription drugs only benefit the wealthy drug companies, doctors and pharmacists. My plan will help bring more jobs to the lower income families in our inner cities."
"This isn't another entitlement program," continued Gore, "After a 12 month period the free drugs stop. However, we think at that time seniors will be able to find a way to score their own."
Federally funded distribution centers will be set up around the country, with the main distribution center being located in Chappaqua, New York.
The proposal does have it's critics. "Gore's plan is all wrong," said Colombian President Andres Pastrana Arango, "How will citizens be motivated enough to acquire their own drugs after 12 months of marijuana? Crack would be a better motivator."
Also critical of the plan is 19 year old Tammy Goldberg, "I spent $100 bucks getting my fake ID saying I was 21. Now I'm going to have to spend $100 bucks getting one saying I'm 65. Is that fair to America's youth?"