Phoenix, AZ - In a badly worded press release the unsigned Phoenix Goth banjo band, Phonics Cat, released their latest album "Picking Death" directly to Napster. The band says this is a pre-emptive strike against any major record label screwing them.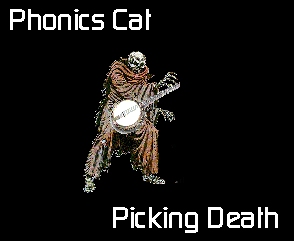 "We read about how the major labels screwed Courtney Love, Smashing Pumpkins and Metallica and we decided that we weren't going to let that happen to us," said drummer Tabby C, "this is our middle finger to all the major labels."
Even though the band has not been signed by any labels, several record companies have decided to file lawsuits against the group.
"We're really sorry Phonics Cat decided to go this route. They were going to be big. We'll now be forced to litigate," said UMG executive Brian Stabler. "The lost future revenue streams our label will incur from this goes into the millions, perhaps hundreds of millions."
Sony Music executive Sara Barnhardt said, "Goth banjo is the hot new category and Phonics Cat were going to lead that category. We predict that the band would have generated $370 million for Sony Music, and that we had a 24% chance of signing them. Therefore we are seeking $88.8 million in damages from the band."
Representatives of Napster say they will cooperate with the labels and block any user who downloads any Phonics Cat song when and if that ever happens.