Pasadena, CA - In a pre-Special Olympic exhibition soccer match the US Special Olympic team defeated the Quake All Stars by a score of 3-0. This is the third victory in a row for the Special Olympians after defeating the Star Trekkers and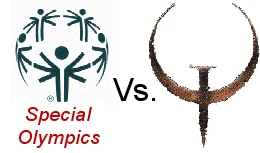 Linux Masters in earlier matches. "I'm really proud of the way our team performed today," said Special Olympic Coach Bob Yardley, "but we're going to see a lot tougher competition from our international opponents, so I hope our players don't let up."
The Quake team missed the firepower of Ben Grote who suffered a concussion in the first minute of the game after he tripped over the ball and hit his head on the goal post. The rest of the squad was unable to muster any offense against the tough goal keeping of 10 year old Kathie Webber who has Down's Syndrome and is also blind.
"Kathie played a great game," said Quake All Star coach Bob Limons, "but our guys didn't really challenge her. You would think that guys that can target a railgun with pin point accuracy could kick a ball through a 24 foot goal."
"I think it was a little unfair," said Tom Trong of the Quake All Stars, "those kids had played soccer before. We all were a little out of our element. I bet if we could've used grenade launchers the game would've turned out a little differently."
Next up the Special Olympians will face the Goths, while the Quake All Stars will go back to their parents' basements.