Sunnyvale, CA - AMD announced yesterday that they will begin selling a variation on their line of Athlon processors targeted at the extreme overclocker. The new chip called the Athlon Extreme OC promises to be the most overclocked chip since the early Celerons..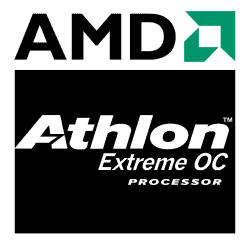 "We're giving the overclockers what they want. Gone are the days when you get tiny overclocking improvements. We're talking 10-20 times the rated clock speed without any additional cooling on the Extreme OC," said VP of Marketing Hank Potter. "The first chips are rated for 75 MHz, but we expect to have the 50 MHz available shortly."
AMD has kept the engineering specs top secret, but did hint that the Athlon Extreme OC is very, very similar to the standard Athlon.
The first reviews of the Athlon Extreme OC processor have been very positive, with benchmarks of the 10 time overclocked 75 MHz chip comparing very closely to the 750 MHz Athlon. "It's definitely worth the extra money," said Kyle Bennett of HardOCP. "While the Quake frame rates were exactly the same as the 750 MHz, it made me feel a lot [H]arder knowing that I was overclocking by a factor of 10."
"I got my hands of one of the pre-release chips. I had the 75 MHz puppy going at 750 MHz right out of the box. Ten times the recommended speed! I almost feel guilty doing that," said Chaz Oldenmeyer. "I heard that the 25 MHz will be able to go 30 times! I think I'm gonna faint."
Intel was quick to respond and announced that the 74.99 MHz Pentium IV OC will be available as soon as they get the stickers printed up. The race for 1 Hz begins.