Edina, MN - Local resident Ty Coleman, 25, said that he was going to keep the dead 2.1 GB hard drive he removed from his system "just in case," because he might need it someday. "I'm not quite sure what's wrong with it, but I might be able to get some parts off some of the other drives I have to get it working. Plus, I paid $250 for the thing, I'm not just going to throw it away," he said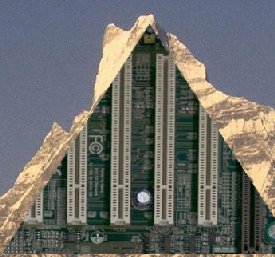 A self-admitted pack rat, Ty has accumulated an awesome selection of obsolete and non-functioning hardware from 386 SX motherboards to acoustic coupler modems. The pile, which Ty calls his 'Stack of Wonder', occupies a large portion of his bedroom in his parents' basement.
"I used to have them stacked in piles according to what they were, modems, hard drives, mobos, video cards, but the piles started falling down, so I just gave up. Now, I just toss it on the heap. It may look disorganized, but trust me, I know everything that's in there. Like under those twelve 850 MB Seagate drives I got off eBay, are some 230 MB Conner drives. I almost used one of those Conner drives once when I thought my hard drive crashed, but turns out there was just a disk in the floppy drive."
"My friends tease me and call the pile, 'Mount Loserville' but you never know, I might decide to put together a Linux box out of some of these parts I have," he said motioning to the Stack of Wonder. "Of course I'll have to go through those motherboards to figure out which ones still work." When questioned further Ty admitted that he'd been talking about a building a Linux box for 3 years now, and really didn't have any intentions of doing it.
Ty couldn't remember why he had so many reset switches, but he was happy to know that he was prepared in case he had 75 in a row go bad.