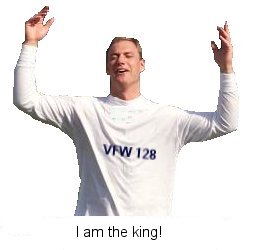 Tallahassee, FL - Florida State University quarterback and Heisman Trophy winner Chris Weinke has decided to forego the NFL draft and instead complete his 2 years of Little League eligibility. According to Little League rules, Weinke who left baseball to play Pee Wee football when he was 8, can still compete in the 9-10 year old division.
In his first game of the Tallahassee winter league with the VFW 128 Yankees, Weinke pitched a perfect game and hit 7 home runs. VFW 128 Yankee's Coach Jason Lickliter said, "He's in a class all by himself out there. He's a man among boys."
Danny Kreiger of the opposing Dairy Queen Tigers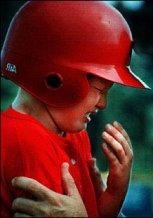 said, "I have a poster of him in my room, but I'm tearing it down after he called me a four-eyed panty waist."
Parents of the children of the opposing team felt Weinke's presence was unfair. "This is ridiculous. He's 3 times my kid's age and size. I probably could take it except he kept calling my son a pansy ass."
Weinke was unfazed by the criticism. "I'm playing by the rules. The league says I can play so I'm playing," he said. "As for the taunting, these kids are just mad I struck them all out. What a bunch of crybabies."