Washington DC - Zombies marched on the capitol today to bring the issue of undead discrimination in the software industry to the public's attention. The protest organized by Undead United and the Zombie Defense League brought together over 20,000 zombies, mostly technology workers, who want Congress to pass legislation to stop what they say is the "rampant culture of discrimination" against zombie coders.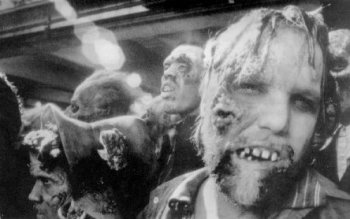 "For too long the software industry has viewed us as monsters, as targets for their rocket launchers and machetes," said ZDL leader Mortak. "This prejudice makes it difficult for hard working zombie programmers to get jobs in this industry, and when they do they often must endure a hostile working environment."
Zombie Gorzon one of the few successful undeads in the software industry disagrees, "I started out as a motion capture model for Resident Evil and worked myself up from there. Young zombies these days want everything handed to them, and aren't willing to do the dirty work." Gorzon now works as a project manager for Capcom.
"Zombies like Gorzon are the exception and not the rule," said one protester, "I had one zombie friend who went for an interview over at id software and they decapitated him with a samurai sword. How's he supposed to 'work up' from that?"
Microsoft, one of the few software companies who embraces zombie workers, has had to make some special arrangements for its zombie workers, but say the benefits far outweigh the costs. "If we didn't have zombie workers here, I'd never look at GUI design from an undead point of view. Like, how do you double click when your fingers have fallen off? That's led to advances in our speech recognition technology," said project leader Yussef Hamidi, "Sure we had to install special ventilation to diffuse the smell of rotting flesh, but I think it's worth it."
The protesters aren't satisfied with acceptance by just one software company. Vowing to not stop until the live, dead and undead can work together in a spirit of harmony. "Jesus came back from the dead and nobody tried to blow his head off did they?" said one zombie in the crowd. "OK, so he wasn't trying to eat somebody's brain, but still."