Monroeville, PA - High school Senior Jared Blanks was surprised that he earned a beating from the "cool kids" with his report on the many humorous quotes from Monty Python. "Usually it's just some teasing, or maybe a punch in the shoulder, but this time it was a downright beating. I got a bloody lip and everything, I'm very impressed. I didn't think my report was that good," said Jared.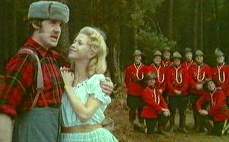 "That geek, he like really deserved the beating for that one," said Eric Taylor. "His report on the differences between C and C++ last week was close to beating material, but not quite. This week with the fake British accent and that lumberjack song, he really earned it."
English teacher Mr. Franks said, "I would've given him a B+, but when the cool kids suggested a beating I thought that was a better idea. There's nothing more annoying than a geek reciting Monty Python quotes. Well, except for having to teach these kids 7 hours a day, 8 months a year."
Jared, who has seen Monty Python and the Holy Grail 27 times, plans on attending Carnegie Mellon University in the fall and majoring in Computer Science. "I'm really gonna miss the jocks and cool kids around here. I hear at CMU they actually give you good grades for things like this. I'm worried I may go soft without the beatings."