RALF: Hi Steve, I understand that there will be a lot of new Apple models coming out with the release of OS X. Please tell us about them.
STEVE: Ok. First off, all of the new iMacs will come with new foil flower patterns implanted into the plastic case. Some of the higher end models will also have little fairies, elves, and a dragon or two.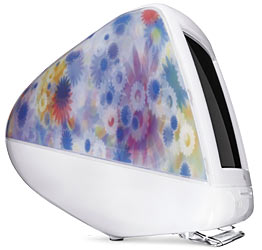 RALF: Um, well, ok, Tell us about the new OS X operating system.
STEVE: OS X will probably ship in a blue box with a red X on the cover. We are considering putting one of those cool security holograms on the package, or maybe even print it on the CD its self.
RALF: Will there be any new features in OS X that the public has not been told about?
STEVE: Yes, the new DDT. DDT stands for Dynamic Desktop Themes. DDT will let you not just put still pictures on your desktop, but you can put swirling hypnotic patterns, dancing flowers, or all sorts of other cool animated psychedelic clips on the desktop as well.
RALF: That's.... well, aahh.... great. Speaking about graphics and animation, tell us about the new Nvidia GeForce 3 cards that will be used in the new Mac models.
STEVE: The GeForce 3 cards will come in pink for girls, and blue for boys. Unfortunately, we were not able to print any cool psychedelic patterns on the board itself, but since no one should ever open up there computer, I don't think it will hurt anyone that bad. (ed: Since the iMacs are semi transparent, people might be able to see the cards, but because Ralf realized that he was talking to a raving lunatic, he did not bring up the point.)
RALF: Can you tell us about the revolutionary new G3 processor that is being used in the new Macs?
STEVE: Our marketing group has told us that they are not that interesting. They are a dull metallic gray, and sort of square-like.
RALF: One note of controversy, I hear that a number of people are complaining that the new DDT interface uses 98.32% of all system resources including processor time, leaving the new computers almost unusable?
STEVE: That is true. However, our marketing department has told us that people don't want to use their computers. They just want them to look pretty. One more thing, I would like to invite every one to the public release party for the new models. We will be setting up a giant Easy-Bake(TM) Oven in Golden Gate park, so people can make their own iMac cases. We will also be making lots of "Herbal Brownies."
RALF: Thank you very much Steve for a very... uh... interesting interview.
STEVE: You are quite welcome.