Palo Alto, CA - For years our corporate motto has been 'The network is the computer'," said Sun CEO Scott McNealy, "But it turns out we were wrong."
Ironically it was a team of engineers inside Sun who broke the news to McNealy. "I was one of a group of pessimists who insisted on running some tests about this, just to be sure," said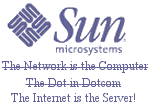 Robert McGregor, a software engineer with Sun, "The results were worse than we could ever imagine. It turns out that we've been lying all along. Some guy in marketing said we do that all the time. Heck, we're not even the dot in dot com. Although we are the Sun in Sun.com."
A marketing representative for Microsoft was not surprised, "Sun is known for publishing misleading statements like this all the time. This would be akin to Microsoft using the slogan 'The Browser is the Operating System'. I mean who would believe that?"
An independent team of researchers was also able to replicate the result of the Sun engineers. "The basic intrinsic difference is that a network is actually a group of computers, not just one," says MIT's Professor of Computer Science, Simon Chenery, "I'm glad to see Sun has finally sorted this out - there's been a question mark hanging over it in the educational community for quite some time."
"Boy are our faces red," said McNealy, "But we're hoping to repair the damage with our radical new slogan - 'The Internet is the server'."
Andrew Gawthorpe contributed to this report