Las Vegas, NV - Apilent Software released the hotly anticipated box for Warped Bunny: Apocalypso. A spokesperson also announced that the software is expected to be released in 18 months, a fully functional version will be available in 24 months and the game will be obsolete because of technical advances in 10 months.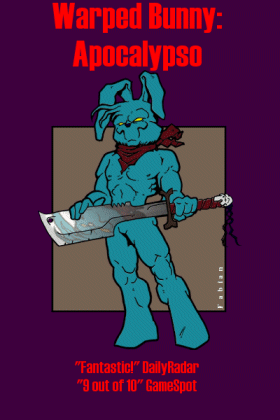 Reviews for the sofware package were overwhelmingly positive. "The box has awesome graphics," said Ronald Freeman of DailyRadar.com. "The simulated screen shots on the back of the package rival anything on the market today. The company rep told me that game play would be 'Fantastic!' that's all I needed to hear. Thumbs UP!"
"We saw pictures of developers working at their computers that would knock your socks off," said GameSpot's Lance Walworth. "This is some sturdy paperboard, and some of the shiniest shrink wrap I've ever seen. It's only May but I think 'Game of the Year' honors may be headed Apilent's way."
Apilent has a strict policy of not sending pre-release copies to reviewers. Apilent's Director of Marketing Barbara Klaus explains, "We're not going to screw over our dedicated fans, so we released the box to the stores first. The reviewers can pay for their own just like everyone else. To give the box added realism, however, we assumed that Daily Radar would say 'Fantastic!' in their review and that GameSpot would give it a 9 out of 10. Imagine our chagrin when they gave it a 9.5!"
Top Selling Game Boxes
1. Quake 7
2. Blowed Up 2
3. The Sims: Smell Pack
4. Rooty-Shooty
5. Red and Yellow
all data as of 4/01
Game developers started selling empty boxes earlier this year in an effort to satisfy rabid gamer's desire for new titles. Not everyone was pleased with the latest release. "I thought the box was pretty light so I asked the clerk if this was some demo box that they just set out on the shelf, but he said that was all they had. I get home and all their is in the box is this note that says 'Coming in 2003, (we hope)'. I was pissed. At least Myst 4 had an AOL CD in the box."
Gamers also got another bit of good news when RhombusSoft announced that the beta release of their box for Deathageddon Crematorium 10 would be available in March of 2002.