The court battle between the RIAA and Napster is nearing a resolution as US District Judge Marilyn Hall Patel during a closed door session today gave the go ahead for the RIAA to launch a nuclear strike against the Napster servers.
Judge Patel said, "I see it as the final solution to this ongoing problem. There might be some lives lost but at least it will guarantee that no copyrighted songs escape their servers."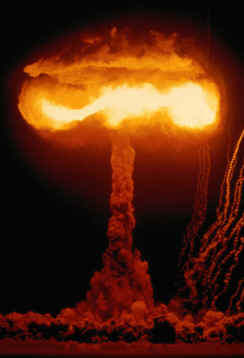 Napster lawyers chuckled when the RIAA suggested a nuclear strike. "We thought they were joking but then Judge Patel said it was a good idea and signed the order. We weren't laughing anymore. We pleaded that human lives had to be more important than copyrighted songs, but the Judge disagreed."
Ironically Dr. Dre and Metallica who just settled their lawsuits, were at Napster when the strike occurred and were evaporated. Fortunately no musicians were harmed in the attack.
One member of a group of song pirates gathered at a Seattle Starbucks said, "Arrr matey. We didn't even notice ye olde Napster was gone. Arrr."
An RIAA lawyer said, "If one song makes it out of the Napster servers that could have a deleterious effect on the artist. That's why we bombed Napster into oblivion. Next we will be petitioning the court for permission to launch strikes against former Napster users' homes."
He continued, "If that doesn't work we've petitioned the court to have the FBI sent in."