Sunnyvale, CA - AMD announced that it would start rating its processors using the trademarked GiggaHertz unit of measure. AMD did not reveal how to convert GiggaHertz to gigahertz, though leaked internal documents suggest that 1 GiggaHertz equals .5 GHz. AMD also announced immediate availability of a new 2.8 GiggaHertz Athlon.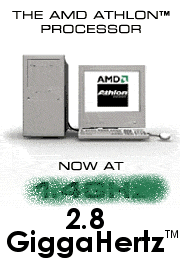 Critics immediately blasted the AMD plan as unnecessarily adding complexity to the already confusing task of computer shopping for consumers. "We're not trying to deceive consumers with this new measurement," responded VP of Marketing, Mark Chilton. "Quite the contrary, in fact to help clear up any confusion consumers may have, we are encouraging computer manufacturers to abbreviate GiggaHertz as GHz."
Chilton continued, "We could try to explain to consumers that more MHz doesn't necessarily mean that the chip is faster, but the marketing axiom is that it's easier to dazzle them with simple numbers than to tell them the hard truth."
Terry Brownlee from Intel called the new AMD method a "marketing ploy" that is "bound to backfire." She added, "AMD is trying to deceive consumers with their new measurement. We are against such deception at Intel, which is why we will start labelling our chips in units more familiar to your average consumer." She then announced the new Pentium IV running at 669,600,000 MPH.
Customer response was mixed. Scott Yoon who just purchased a computer system was upset by the announcement, "I'm pissed. I just bought a 1.4 gig Athlon system yesterday. Now, just one day later my system is already obsoleted by the 2.8 Gigg systems. Bastards."
But Vanessa Gladney was encouraged by the news, "Any major technological advancement like AMD has taken with this new processor can only be positive for society as a whole."