Washington, DC - Senate majority leader Tom Daschle called today for a 5 day waiting period for box cutters, nail clippers, and tweezers, saying that it was time to "get serious about our fight against terrorism."
A spokesman for Daschle said, "All the measures enacted in the wake of the September 11th tragedy have been well intentioned, but none of them would really have made a difference, had they been in place before [the hijackings on September 11th].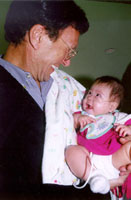 "While we are grateful for the unconstitutional power granted to the federal government by the USA PATRIOT Act, Senator Daschle feels that secret military courts, roving wire taps, and warrantless searches will simply not protect Americans from any future terrorist acts."
The proposal, if enacted into law, would require anyone wishing to purchase one of the potential weapons to register in a federal database, and submit to a background check. The 5 day waiting period would give merchants time to alert authorities, if a suspicious person attempted to make a purchase. Daschle's office declined to define what would constitute "suspicious", but an anonymous source within Daschle's office told The Times this morning, "Well, we'd be very suspicious of anyone who didn't clearly work at a grocery store, or packing facility, for example. What does a law abiding citizen want with a box cutter, any way?" When questioned about the nail care implements, the source said, "The only person who should be buying anything related to nail care would be a professional manicurist, or full-time housewife. I'd say that any man buying a nail file would draw some very serious scrutiny. Especially if that man were, say, of Arab descent."
Senator Dianne Feinstein, who supports the proposal, is also expected to ask for additional provisions in the law, which would allow an individual to only purchase one box cutter a month, and only 6 nail files per year.
"A responsible American should only need to replace their nail files, at most, three times a year," Feinstein said. "And if they were to, say, lose their files, they could always have their nails professionally done by a member of the Manicurists Union of America."
The Foundation for Taxpayer and Consumer Freedom criticized Feinstein's announcement, noting that the MUA recently donated heavily to Feinstein's campaign.
Feinstein denied any impropriety.
The NRA immediately blasted the proposed legislation. NRA President Charlton Heston declared, "Box cutters don't hijack planes. People who take advantage of lax airport security do. This is just another cynical power grab by the Washington elite. The second amendment clearly states that the right of the people to keep and bear arms, box cutters, nail clippers and tweezers shall not be infringed."
The White House also criticized Daschle. "Far from being effective, this proposal simply doesn't go far enough. We live in a free and open society. That's what makes America unique. If we are to protect this freedom and openness, we need to see legislation that will stop people from just moving about our country whenever they feel like it," Ari Flescher said. "And to secure those freedoms, the president will be working with Congress to draft legislation requiring all citizens to register with the Office of Homeland Security. We will also invite our Arab-American friends, and those who harbor them, to move into specially designed neighborhoods, where they will be safer from terrorism. That is the president's personal commitment to a workable, final solution."